Pastor Phillip Ferrell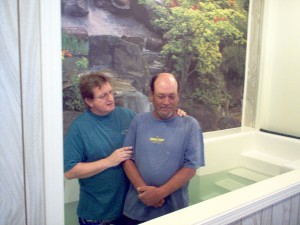 —Pastor Phil moved his family to Memphis, Tennessee in 1994 to start Calvary Chapel Memphis.
Pastor Phil's calling was in response to Isaiah 6:8 "Also I heard the voice of the Lord, saying: "Whom shall I send, And who will go for Us? Then I said, "Here am I! Send me."
Pastor Phil was born in Covington, Tennessee. Later, his mother and step-father moved to Millington, Tennessee. Phillip gave his life to Jesus at the age of 12 at 2nd Baptist (now called Crosspoint Baptist Church). His step-father, serving in the United States Navy, relocated to San Diego, California. California culture at the time was very different from the south, since there were more people and fewer churches.
At the age of 25, Pastor Phil and his then girlfriend Linda, were invited to an Easter Sunrise Service at Calvary Chapel La Mesa. It was at this service, he rededicated his life to Christ and Linda gave her life to the Lord. They were married six months later.
Thus began the journey and training at various Calvary Chapels in Southern California, as the Lord's way of preparing them for His work ahead. When Pastor Phil's biological father died in 1993, Pastor Phil returned to Tennessee to speak at the funeral. It was at that time, while reading Isaiah 6:8, that the Lord called Pastor Phil to Memphis. The call has been for the souls of Memphis using the Bible as the source of study and inspiration to reach all that will listen. It is our desire to see people become true disciples of Jesus.
We invite you to come and study through the Bible with us.
If you are not able to attend, we encourage you to listen to Pastor Greg Laurie of Harvest Christian Fellowship, Riverside, California. He can be heard Monday-Friday at 5:00 a.m. CST on AM 640 WCRV.
Jesus Bless!